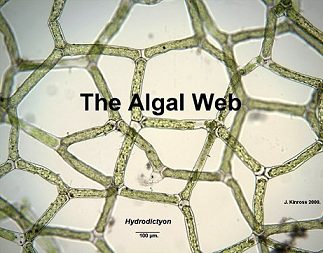 Algae are interesting for a number of reasons:
1: They are primary producers at the root of many aquatic food chains, and an important component of
biodiversity
2: They are objects of great beauty in their own right, unfortunately usually overlooked
3: They are very sensitive indicators of environmental conditions, and a study of their variety in a waterbody can reveal much about water quality.
Understanding the role of algae in aquatic systems requires that we can
distinguish their species, which can be a daunting undertaking initially: the purpose of this web site is to help you to identify algae, and appreciate their
beauty and importance.
This is an experimental net-based aid to algal identification, with colour photographs of the algae taken under a range of
field and culture conditions.
The pages are arranged as an illustrated check-list of the algae found in particular habitats, with direct links also to certain
genera, and an alphabetical index.
An identification facility is under development (WebKey). Please test it.
CLICK HERE:
Clicking on each thumbnail image on the pages will bring it up full-sized
for a better view.
email: webmaster@algalweb.net